The Dog's Runs

Large 6 mtrs x 2 mtrs runs
Enclosed 1.8 mtrs x 1.4mtrs sleeping area.
Grassed run 3 mtrs x 20 mtrs.  Each dog has access to this area whilst their kennels are being cleaned.
Trampoline beds supplied.
Individual diets catered to your requirement.  Medication administered to instructions at no extra cost.
Specific types of areas to accommodate different types of dogs and their needs. (e.g. Grass Run Areas, Inside Lodge Accommodation, Small Dog Cottages, etc.)
Western Namoi Vet Services on call 24 hour.
Kennels disinfected daily.
Pick up and delivery available on request.
12 snake repellers on the premise to help keep your dog safe.
Dogs with no special food requirements receive wet and dry food of high quality, but we recommend you let us know what type of food your pet prefers, so we can cater to their requirement.  We prefer to feed what your dog is use to as a change in diet can sometimes lead to tummy upset.
If we find evidence of fleas on your dog during its stay, a flea treatment will be applied and charged accordingly.
On arrival at Bohena Pet Motel, you will be required to produce your pet's vaccination certificate.  For dogs this includes Distemper, Hepatitis, Parvovirus, Parainfluenza and Bordetella (Kennel Cough) C5 Vaccinations.  All vaccinations must be completed at least two weeks prior to boarding.
Here at Bohena Pet Motel boarding fees are calculated on a day of arrival, day of departure basis.  If your pet is collected before 10am on the departure day you will not be charged for that day.

Small (Foxie, Maltese etc) $12 per day
Medium (Staffordshire Terrier, Kelpie etc) $13 per day
Large (Cattle Dogs, Labrador etc) $14 per day
X-Large (Great Dane, Saint Bernard etc) $16 per day
Discounted Fees – Long term stays (21 days and over) receive a 10% discount off the total account.  20% discount applies for "same household" shared kennel runs.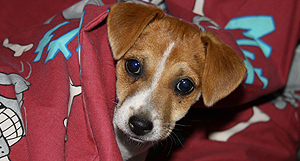 See some of our happy canine visitors on our Photos page!